With two kids, multiple cats, one dog and several guinea pigs—not to mention a full activities schedule— it's safe to say that our clients, Cheryl and Eric, maintain a very full and busy lifestyle centered around their family and home. While their Robbinsville, NJ house works fairly well for them and their menagerie, one thing it didn't have was a quiet retreat where these active parents can unwind and rejuvenate after a long day.
With a cramped and dated primary bathroom, they decided it was time to take on a renovation to get the spa-like oasis that they so desperately wanted.
Out With the Old, Dated Design
Cheryl and Eric couldn't stand the dated 1980s vibes their bathroom gave off. The style simply didn't make sense with the rest of the house, which was built in 2005, and it definitely didn't match the modern design that this couple loves. A predictably bulky jacuzzi tub dominated the room and felt out of balance with the small and dark shower stall that was tucked into the corner. Moreover, when it came to storage, there simply wasn't enough. Fortunately, for Cheryl and Eric, we could see the room's potential and set about reimagining the space to better meet their needs.
Reconfiguring the Room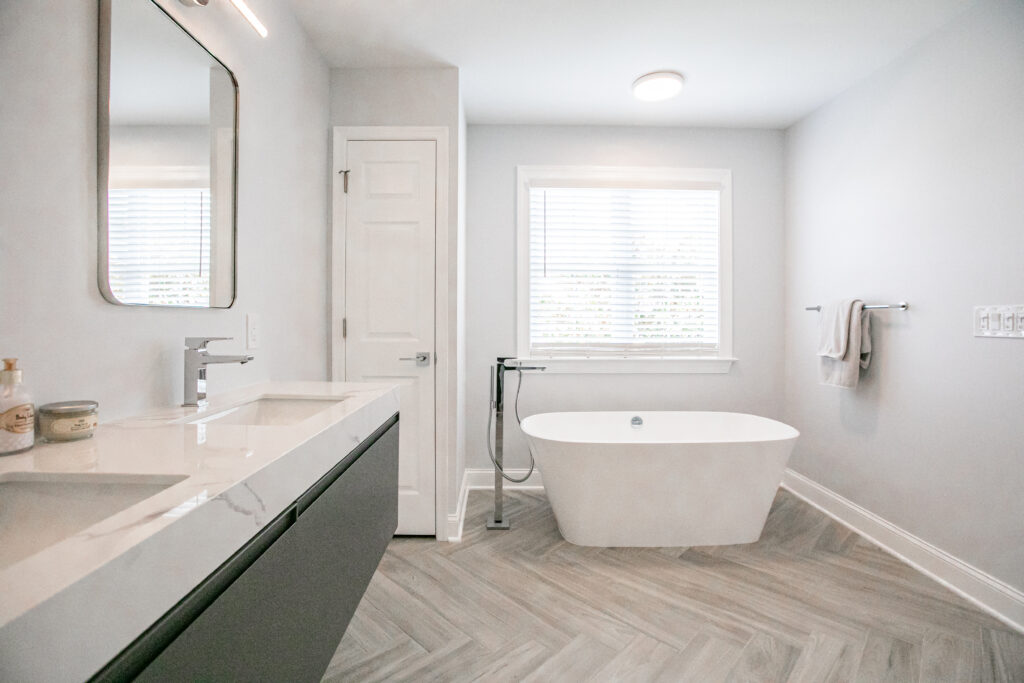 At the top of Cheryl and Eric's list of must-haves were a soaking tub, a larger luxe shower, and a linen closet. To make enough space, we began by removing a half wall and then moving the doorway nine inches, which gained us the space we needed to build a custom, frameless shower complete with a bench and storage niche. Next, we modified a corner bump in the wall, which housed piping and wiring, to accommodate a coveted linen closet that is now the right size to store towels, products, and so much more. Finally, a gorgeous freestanding Vetralla white tub by Victoria and Albert with a floor mounted faucet was placed under the window to create the ultimate focal point for the space.
How We Created a Modern Oasis
To elevate the bathroom further and give it that spa-like feel, our design team used organic, clean lines, drawing inspiration from nature. The lovely grain of the floor tile is arranged in a herringbone pattern and contains various shades of gray to blend with the other materials throughout the room.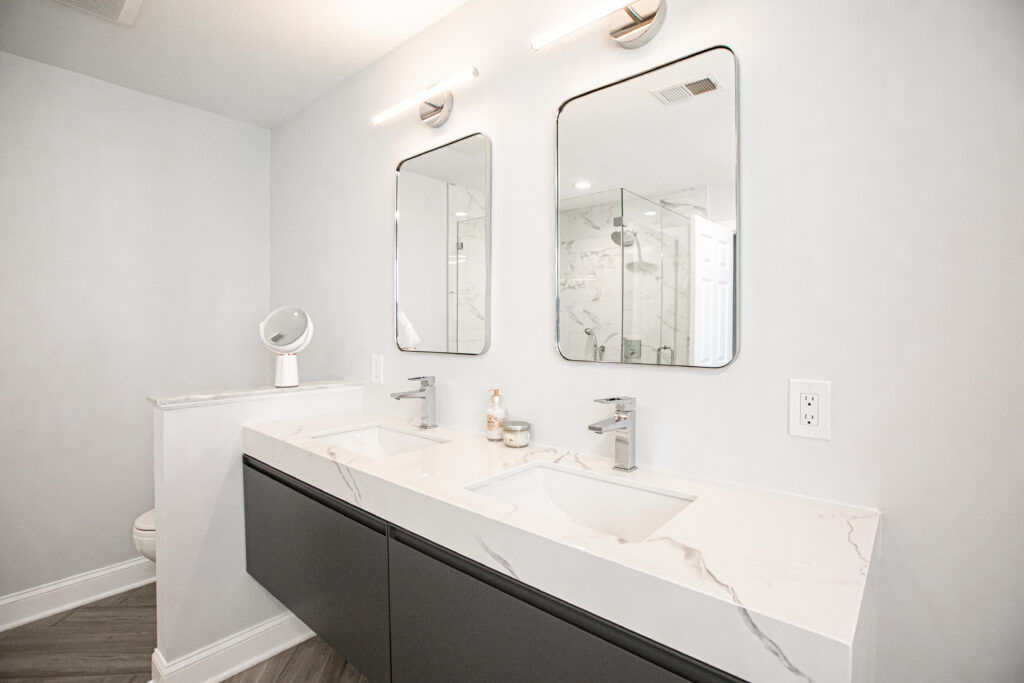 A 72-inch modern floating double vanity pulls in a darker tone without feeling too heavy, while the Calcutta Ultra quartz countertop and Metropol single lever faucets tie in beautifully with the shower tiles.
In the shower, Plata Brina matte hex tiles grace the floor and the custom niche, while large 12-by-24-inch wall tiles blend seamlessly with the Calcutta quartz bench. To add another layer of depth to the design, we selected a contrasting pewter frost grout for the niche, which ties in perfectly with the gray tones of the surrounding tile. A rain machine shower head and Leticia handheld in a chrome finish complete the space and promise a luxurious experience.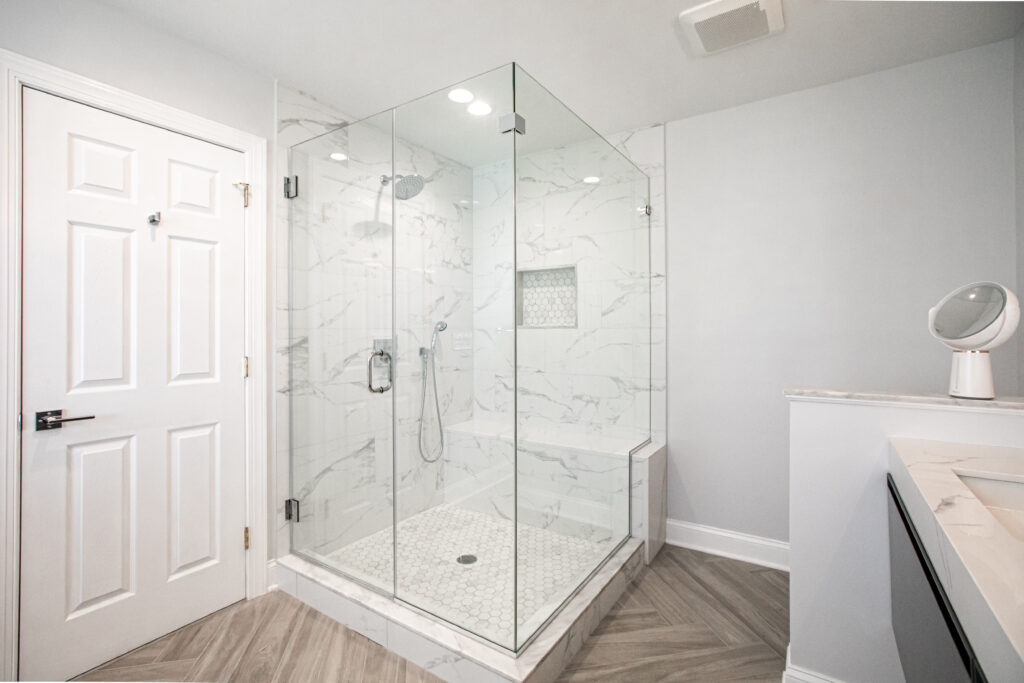 Sleek lighting fixtures add to the modern style without dominating, and the natural light that filters through the window provides a connection with the surrounding landscape that helped inspire this stunning interior.
Made for Relaxation
This updated space is now everything Cheryl and Eric wanted. It's the perfect spot for them to retreat from the chaos of everyday life and unwind in quiet, spa-like solitude. Carving out "quiet time" used to be a challenge for these homeowners, but has become much easier now that they have this gorgeous, modern primary bathroom to retreat to after a long, difficult day.
"We hired Flansburg Construction to renovate our master bath, and we couldn't be happier with the results. Dan and his team were exceptional from start to finish. Our project manager was great, with excellent craftsmanship, reliable communication, and respect for our home. We highly recommend Flansburg Construction and will use them for our next project." -Cheryl and Eric
Are you ready to plan your next big remodel? The Flansburg Construction team can help—contact us to schedule a consultation today!