The 20-year-old Bordentown, NJ, house our clients recently purchased was full of original, impersonal builder-grade elements that desperately needed some work to reflect the new owners' personal style. They asked our team to transform the primary bathroom—and remove the enormous corner deck jacuzzi—as well as update the family room fireplace to make it a true focal point in the room.
A Classic Primary Bath
The primary bathroom's original layout included a huge jacuzzi bath in one corner and a tiny shower stall with an acrylic pan and framed enclosure in another. Both were in bad shape from years of use and didn't fit the family's needs or their style, so we eliminated the tub completely and expanded the shower stall into a roomy 6-foot-by-four-foot space. A wide bench and custom niche, add comfort and functionality while a frameless glass enclosure completes the look.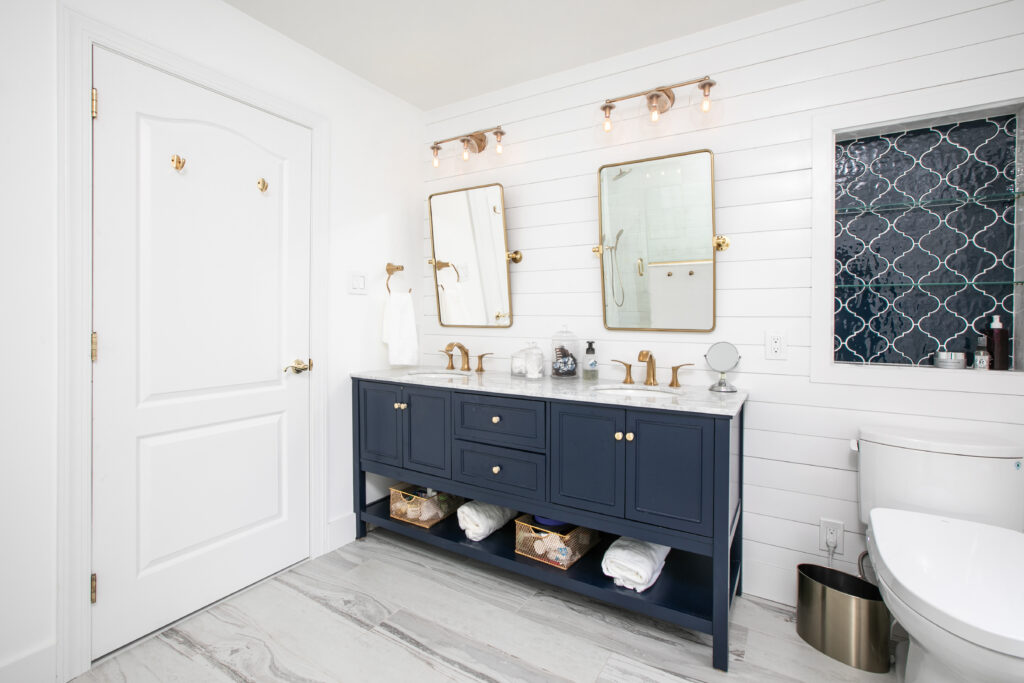 We then replaced the original builder-grade double vanity with a stunning Midnight Blue one with open shelving that stretches 72 inches for extra space on the light gray quartz countertop, a perfect match to the floor tiles. Classic brushed gold mirrors, fixtures, and lighting add a touch of elegance and warmth against the rustic white shiplap walls. For added functionality and full illumination, we installed four recessed lights on a dimmer switch.
Fireplace Facelift
The home's original understated gas fireplace felt disconnected from the high, vaulted ceiling in the family room, and definitely didn't match the clients' eclectic décor. In addition, the placement of the TV meant that it was only visible to about half the seats in the room.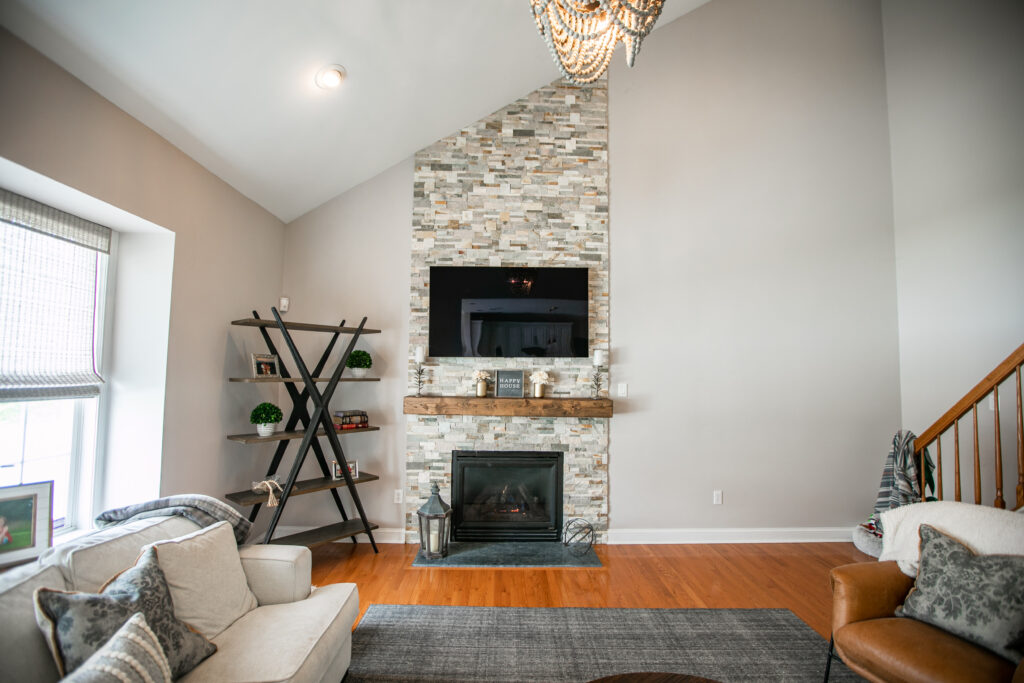 So, we installed a beautiful natural quartz ledger stone feature around the fireplace and all the way up the high wall. A soapstone hearth and rustic barn beam style mantle serve as the finishing touches to this organic focal point. Above the mantle, the TV sits in its new position, perfectly visible to all corners of the family room and adjoining kitchen area.
Our clients absolutely love how these focused transformations have helped their house truly feel like home! Ready to begin your home transformation journey? Schedule a consultation with our team today.