The Recipe for Guest Success
More than a spare bedroom or even a guest suite in the main house, this separate space had room to accommodate visitors in a welcoming home-away-from-home complete with all the amenities. From a full galley kitchen, a laundry room and two bathrooms to a large living area, primary suite, a quiet office, and carefully-selected décor, all of our clients' guests' needs would be covered—even for a longer stay.
Cottage Vibes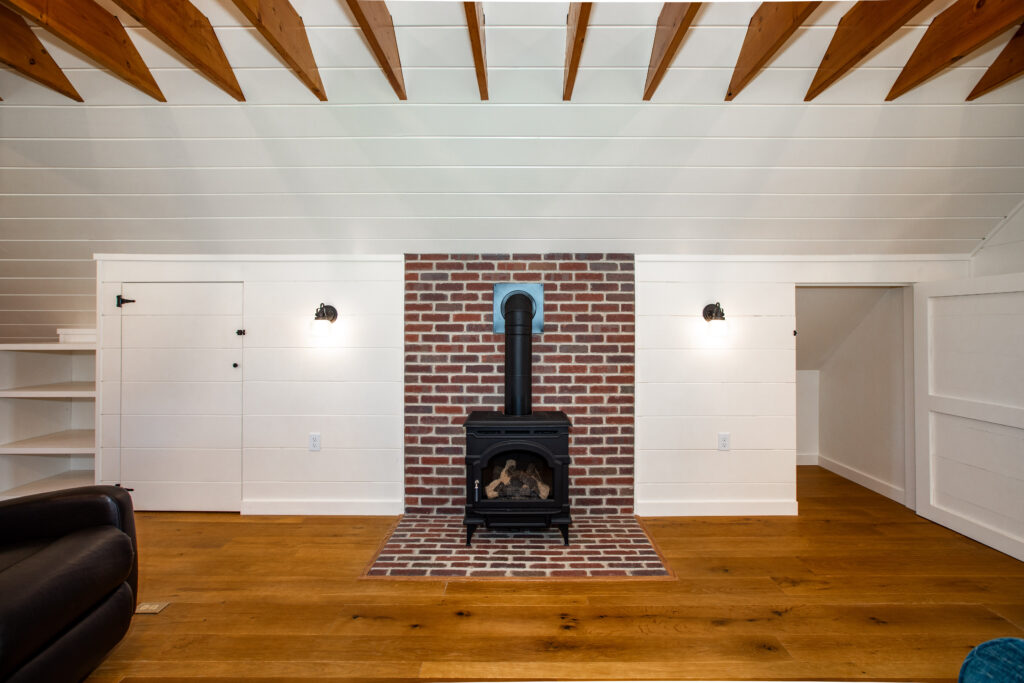 To create a cozy, welcoming guest experience, we used white shiplap ceilings and walls that feel as though they've always been there; warm wood flooring and window frames; and a brick-backed stove that is made for fireside chats. Soft pops of blue tones add just the right amount of color, while minimal wall décor allows the eye to rest and enjoy the pleasure of simplicity.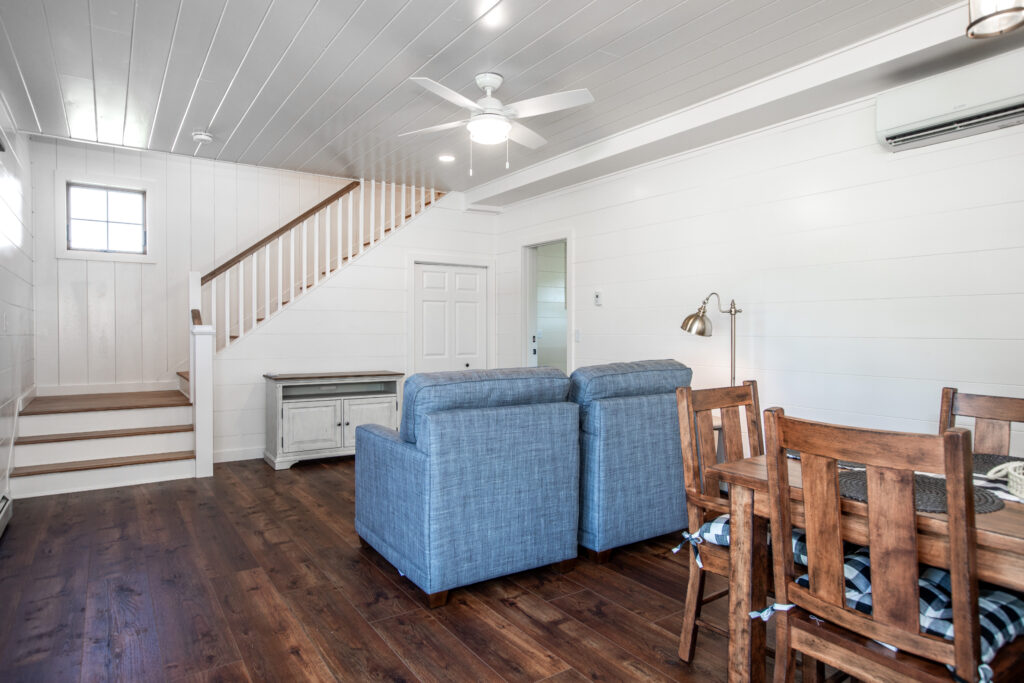 The main floor's open footprint allows for connection and conversation between the kitchen, dining area, and living space. With continuous flooring in beautiful rustic wood, walls that stretch from one end of the cottage to the other, and carefully scaled furniture, this space is certain to make any guest feel welcome
Upstairs, a vaulted ceiling boasts beautiful exposed beams over a second living area and an office space by a wall of windows that offer picturesque views of the surrounding property—the perfect work-from-home experience. Across the room, the crackling wood stove serves as a nostalgic focal point certain to mesmerize visitors on chilly evenings. For added convenience, a separate powder room sits just off the main part of the loft.
Modern Amenities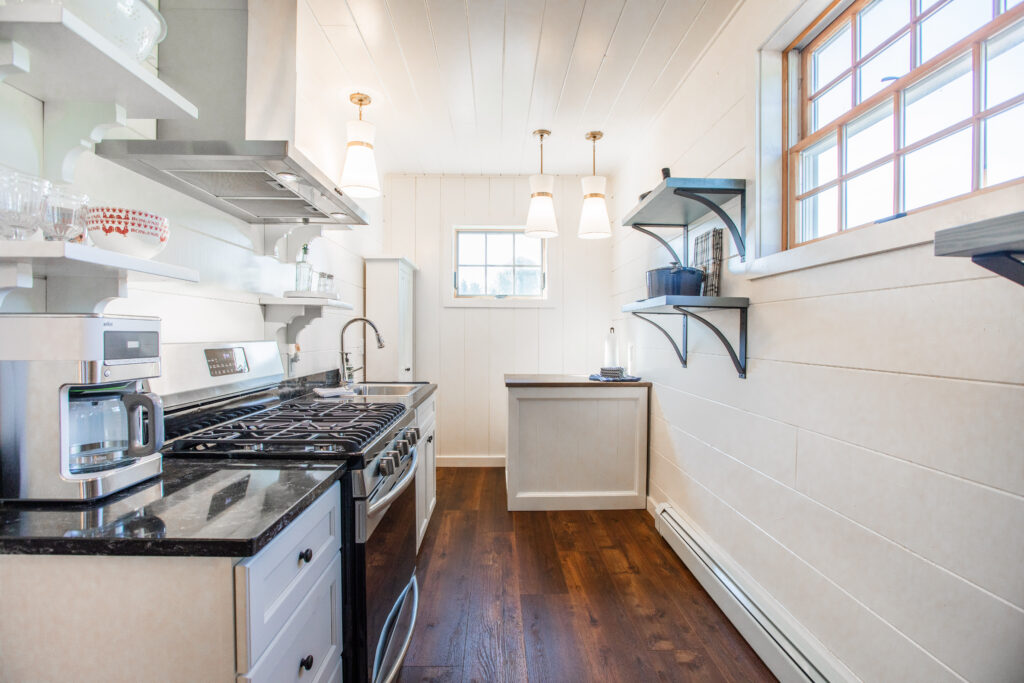 A full galley kitchen sits at one end of the cottage, equipped with a full-size range, plenty of prep space, and, of course, a coffee station. Sleek stainless-steel finishes and rich, dark countertops balance the white cabinets and floating shelves. Natural light combines with three modern pendants for a bright corner to cook in.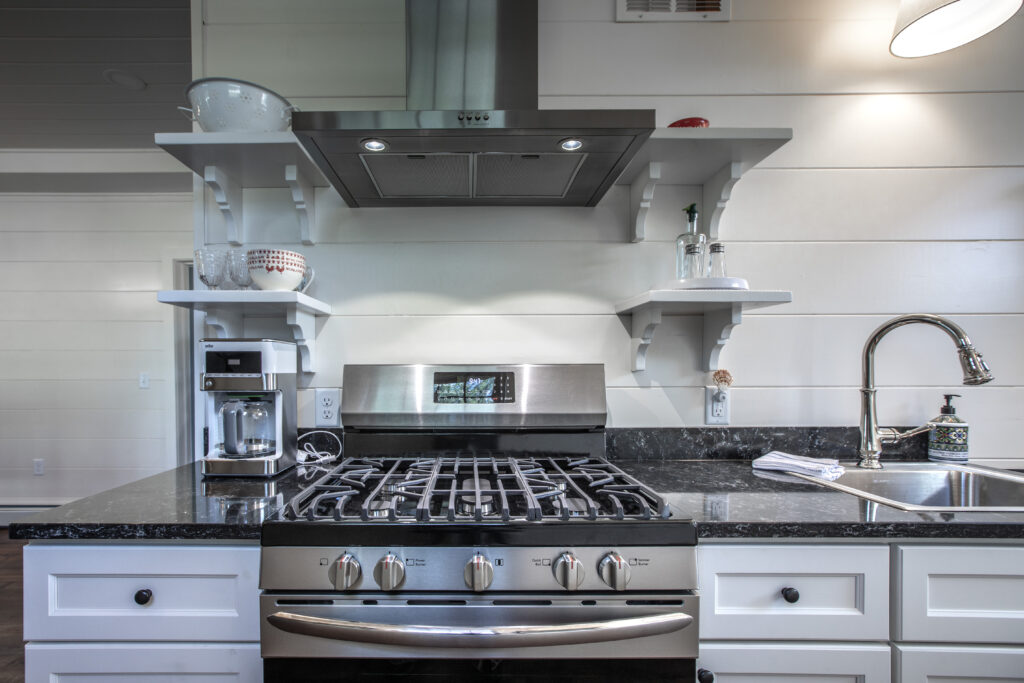 Finally, a main floor primary suite made good sense to avoid the need to drag heavy suitcases upstairs. In addition, a full bathroom downstairs in this space makes it easy for guests to clean up before dinner after a long afternoon by the pool.
Welcome and Waiting
This cozy space is now ready to welcome family and friends for the perfect backyard getaway. Our clients couldn't be happier with the results, which promise a new life season filled with loved ones and great memories! Are you ready to see your space reach its full potential? Schedule a consultation with our team today!